Hyperbaric Chamber Therapy in Los Angeles, CA
Looking for relief from neurological diseases, cancer, pain, or inflammation?
The specialists at Hyperbaric Chamber Therapy have many years of experience with hyperbaric oxygen therapy (HBOT), and they are known for giving patients in Los Angeles County the safest and most comfortable care possible.
The delivery of high-pressurized oxygen in a closed chamber for a single patient is called hyperbaric oxygen treatment. We use 100% pure oxygen to accelerate wound and injury healing, boost the immune system, and activate the brain.
Find out more about our hyperbaric oxygen therapy, including the conditions it treats.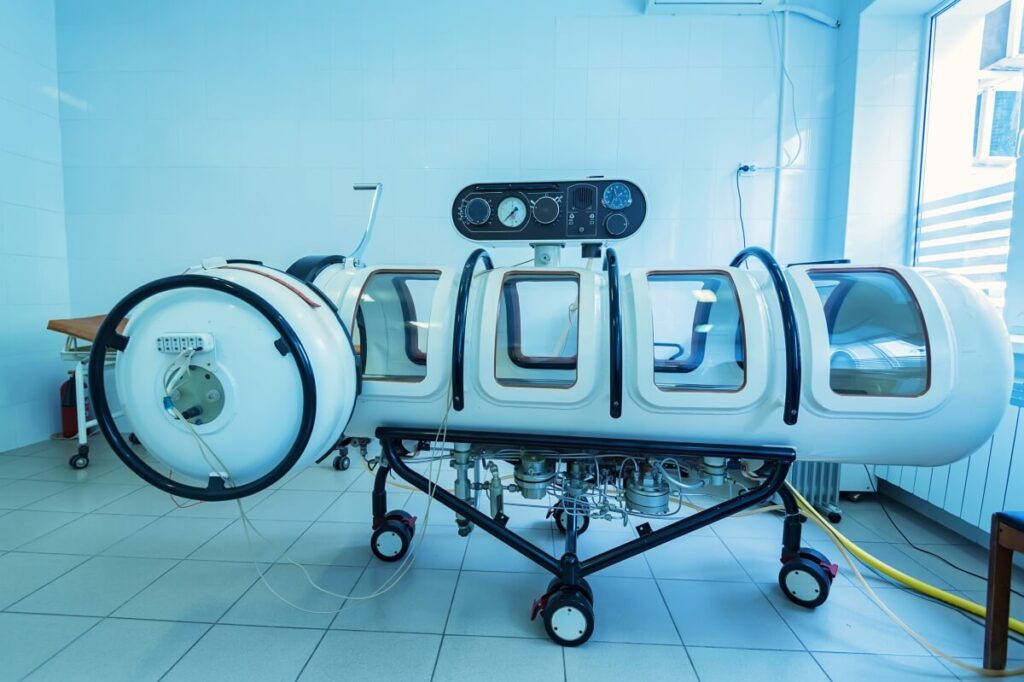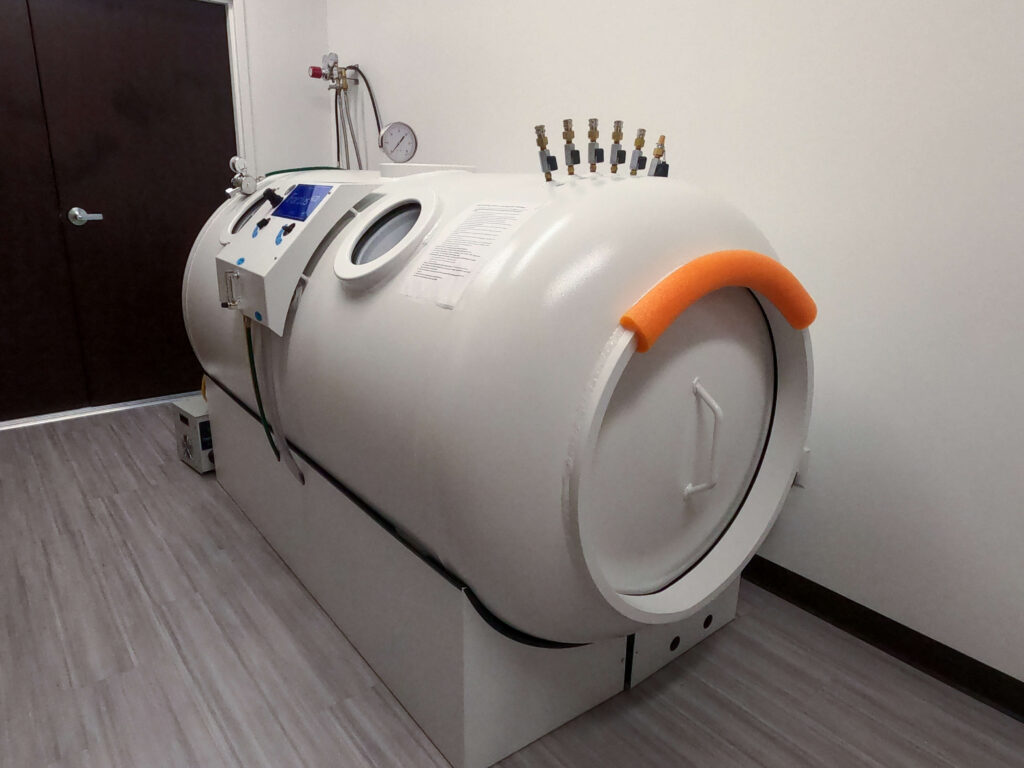 Hyperbaric Chamber Therapy in a Nutshell
Through the intake of 100% medical oxygen in a pressurized chamber with an ambient air pressure ranging from 1.3 to 2.0 ATA, hyperbaric oxygen therapy (also known as hyperbaric chamber therapy) enhances and expedites the body's natural healing process.
An exponential increase in blood oxygen levels helps to prevent infections and speeds up the recovery from wounds and illnesses like cancer, Alzheimer's, diabetes, and autism, as well as other conditions.
Due to the high pressure, oxygen is dissolved in the body's fluids and moved to places where circulation is poor or limited.
Your lungs can metabolize up to three times as much oxygen with HBOT as they would without it. The human body can now heal itself more quickly because all of its cells now have the oxygen they need to work and grow.
Get in touch with us today to discover how hyperbaric chamber therapy can improve your wellbeing. We will design a program to assist you to achieve your wellness objectives.
The Benefits of Hyperbaric Chamber Therapy
Why would someone choose to receive hyperbaric oxygen therapy?
Recurring sessions for hyperbaric oxygen therapy have numerous physiological benefits, such as:
A More Powerful Immune System
As your blood carries more oxygen to all of your body's tissues, your immune system is better able to fight off viruses and bacteria.
Increased Cell Release
Restorative cells are released more often when your body gets more oxygen. This aids in wound regeneration and healing.
Detoxification
By filtering toxins out of the air and breathing in highly oxygenated air instead, your body will have a chance to get rid of heavy metals, pesticides, and other pollutants that it might keep getting from the environment.
Swelling is Lessened
Your body gets better at defending itself and healing the harm as it gets more oxygen. This lessens the inflammatory response and can increase energy levels, and reduce stiffness or muscle exhaustion, among other benefits.
Improved Blood Circulation and Flow
Hyperbaric oxygen therapy is helpful for several reasons, and they all have to do with providing your body with more of the oxygen molecules it needs to stay alive.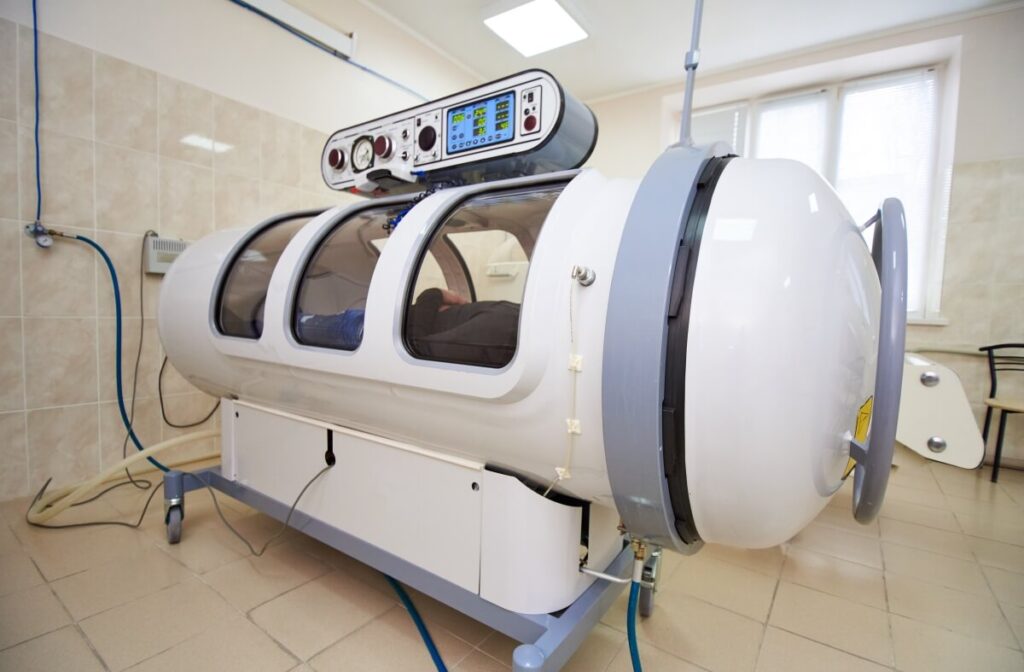 What to Expect from a Hyperbaric Chamber Therapy Session
During Hyperbaric Chamber Therapy
Hyperbaric oxygen therapy is usually done as an outpatient procedure, but it can also be done in a hospital while you are being treated for something else.
There are two varieties of hyperbaric oxygen chambers:
A single-person unit
You lie down on a table that slides inside a transparent plastic chamber in an individual unit.
A room designed for multiple occupants
You can sit or lie down in a multi-person hyperbaric oxygen room, which often resembles a huge hospital room. You can get oxygen by wearing a face mask over your face or a thin, clear hood over your head.
The air pressure in the room is around two to three times higher during therapy. Your ears will momentarily feel full, much like they might in an airplane or at a high altitude due to the increased air pressure.
Hyperbaric oxygen therapy lasts for about two hours for most illnesses. Throughout your treatment, members of your health care team will keep an eye on you and the therapy unit.
After Hyperbaric Chamber Therapy
Your treatment team evaluates you by taking your blood pressure and pulse as well as checking your ears. Your blood glucose level is tested to see if you have diabetes. You can get dressed and depart as soon as the staff confirms you are ready.
After your treatment, you may feel a little hungry or sleepy. Normal activities are not restricted by this.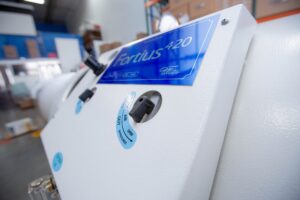 Effects of Hyperbaric Chamber Therapy
Faster wound and injury healing

Increased mental concentration and alertness

Immune system boost

Increased vitality and athletic performance

Improved sleep

Less stress and anxiety

Age-reversing effects

Wrinkle and fine line reduction
Conditions Treated by Hyperbaric Chamber Therapy in Los Angeles, CA
Hyperbaric Chamber Therapy is a medical-grade HBOT facility with medical-grade hard-shell chambers. Our HBOT procedure can help with the following FDA-approved conditions:
Long-term Injuries

Gas or air embolism

Radiation consequences following cancer treatments

Loss of blood and anemia

Carbon monoxide poisoning

Skin flaws

Ingestion of cyanide

Sickness from decompression

Antibiotic-resistant infections

Non-healing or infected bone

Thermal or severe burns
Your doctor and the hyperbaric medicine team can go over any further indications for hyperbaric oxygen therapy. The use of hyperbaric oxygen treatment typically occurs in the context of a multidisciplinary care strategy. In addition, if necessary, nutritional support and antibiotic medication may be used as further treatments. To arrange any further treatment required, the hyperbaric medicine team at Hyperbaric Chamber Therapy will work closely with other specialists.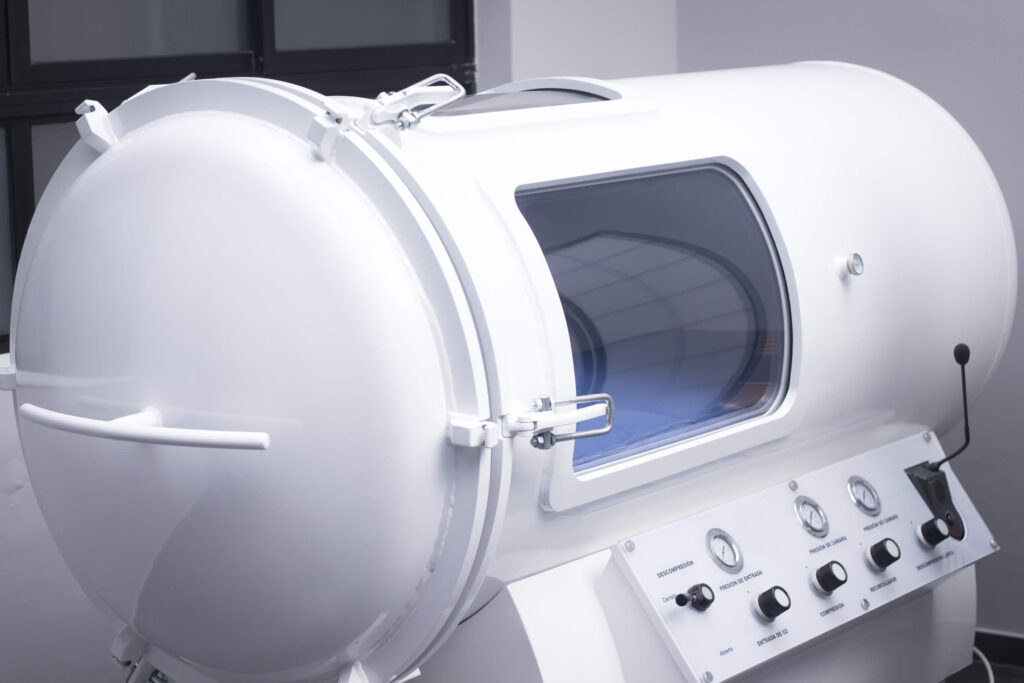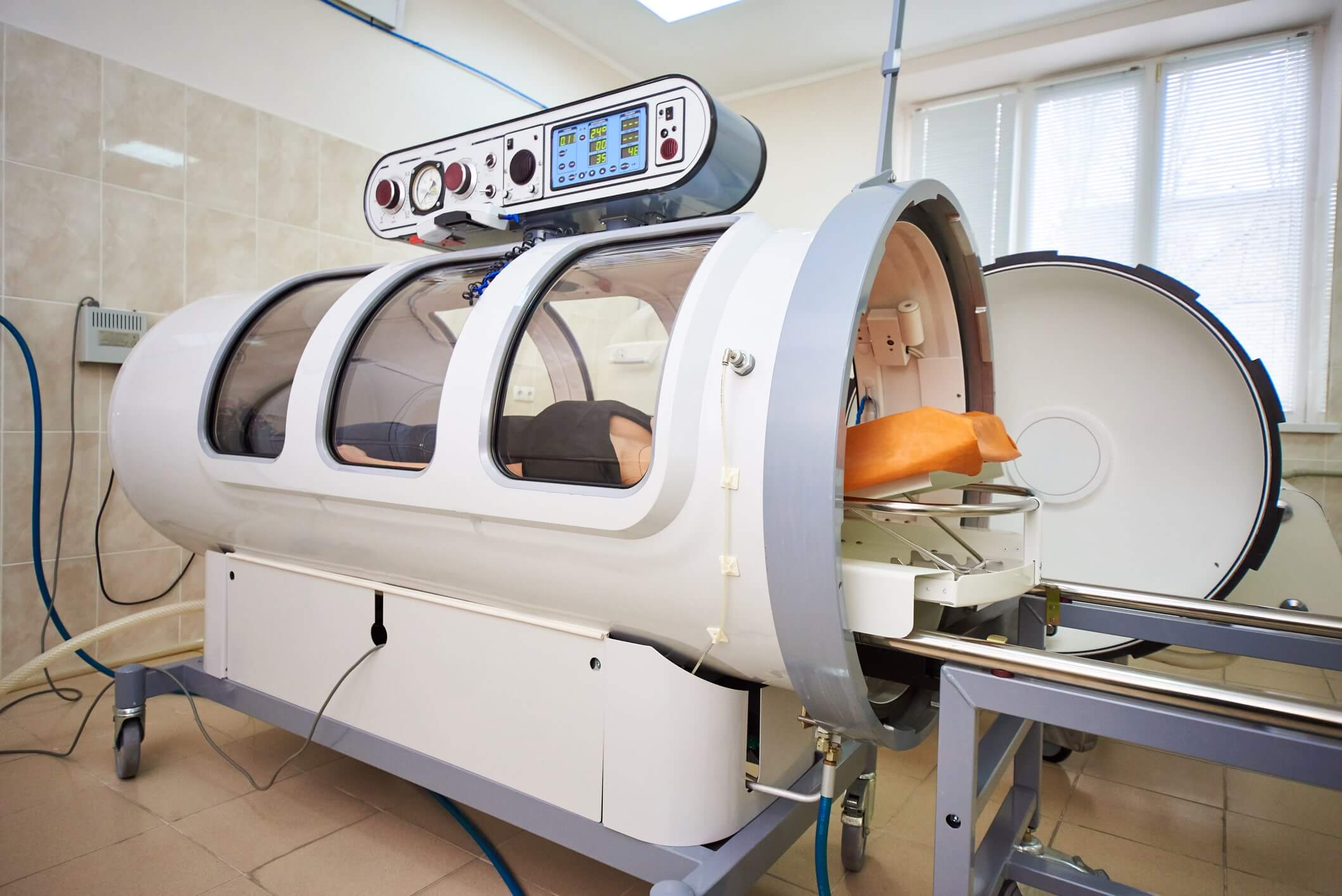 Boost Your Body's Natural Healing Process
Car Accident Victims
Serious injuries from car accidents can have long-term consequences for victims, even affecting their lives in some cases. Such victims can quickly and painlessly recover from a range of crash-related ailments with the aid of hyperbaric oxygen chamber therapy (HBOT). In addition to being covered by several insurance companies in several states, this method of therapy has been approved by scientists to treat a wide range of diseases and illnesses.
Chronic Fatigue Syndrome
Extreme exhaustion is the most common symptom of chronic fatigue syndrome. Anyone, even children, can develop chronic fatigue syndrome. Hyperbaric oxygen treats the underlying cause of chronic weariness from the inside out. Patients with chronic fatigue have a better quality of life and symptom severity is reduced by hyperbaric oxygen.
Chronic Infections
The body's tissues require enough oxygen for effective operation. If there isn't enough oxygen, it will be harder for damaged tissues to heal, which could lead to infections or wounds that won't heal.
The high-oxygen environment of an HBOT chamber can increase the effectiveness and efficiency of your body's natural immune response. It also helps people who have a lot of swelling and inflammation, especially in their limbs.
Sudden Blindness or Deafness
In the case of central retinal arterial occlusion, hyperbaric oxygen therapy encourages an increase in oxygen bound to hemoglobin and, more critically, in plasma, leading to an increase in oxygen concentration in the vascular region of the choroid.
The method can also aid in the treatment of sudden deafness by encouraging angiogenesis and tissue regeneration and acting as an antimicrobial agent through oxygen radicals.
Boost Your Wellness Path With Hyperbaric Chamber Therapy in Los Angeles, CA
At Hyperbaric Chamber Therapy, we offer 100% oxygen and high-pressure hyperbaric oxygen therapy at a reasonable price to adults and children residing in Los Angeles, CA.
The Hyperbaric Chamber Therapy center offers a friendly, warmly lighted spa-like environment within medical standard of care sterilization requirements to create a profoundly calming and restorative experience. You will also find spacious and comfortable hyperbaric oxygen chambers at our center.
Numerous health and repair advantages are offered by hyperbaric oxygen therapy. Many people come in for repair programs for a variety of illnesses, including anti-aging, cancer support, pain and inflammation, and post-surgery recovery.
What Our Hyperbaric Oxygen Therapy Process Involves
Standard hyperbaric oxygen therapy treatments frequently have poor results. At Hyperbaric Chamber Therapy, we have special chambers for a form of hyperbaric oxygen therapy that is much more advanced.
A wellness professional will direct you to your designated chamber once you've scheduled a hyperbaric oxygen therapy appointment. The local oxygen concentration and air pressure in the chamber will rise as the session progresses. With each breath, your lungs will take in more oxygen, which your blood will easily absorb and provide the other health benefits we've talked about.
Once you're done with our hyperbaric oxygen treatments, your chest may feel noticeably lighter and less constricted than before, and you'll feel refreshed and reenergized.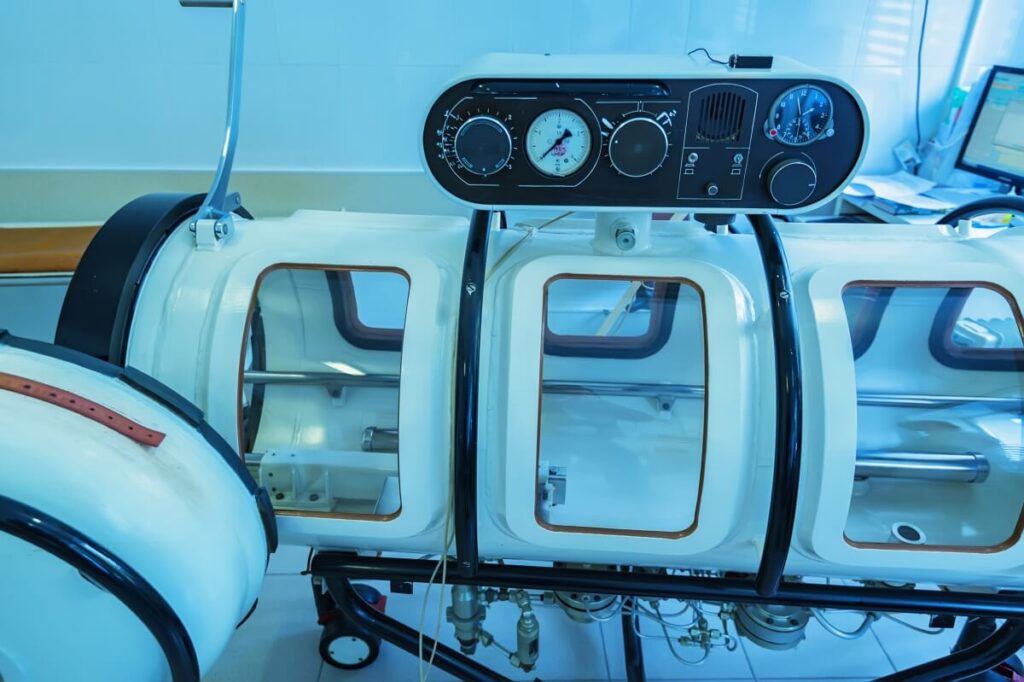 Sign Up for Hyperbaric Chamber Therapy in Los Angeles, CA.
Schedule a free consultation with our specialists to learn how you can achieve long-lasting improvements to your physical and emotional health. Each of the hyperbaric oxygen chambers at our center in Los Angeles, CA, was designed with client safety in mind.
Enroll in the hyperbaric chamber therapy session at our conducive center in Los Angeles, CA to give your lungs the break they need. Call us today at (702) 476-4356 or send an email via info@smithsurgery.com to talk with one of the wellness experts and to find out more about how hyperbaric oxygen therapy might benefit you.

Hyperbaric Chamber Therapy
7650 W Sahara Ave Suite 301, Las Vegas, NV 89117, United States
Visit
M-F:  9am – 5:00pm
S-S: CLOSED